Ontario Government's Pharmacy Scope of Practice expansion allows for better access to healthcare.
In recent months, provincial governments across Canada have been introducing proposals to expand the scope of practice for pharmacists, including assessment and treatment for minor ailments, such as eczema, urinary tract infections, and pink eye. Opening up these services (and more) is improving access to care for many Ontarians that may not have a primary care provider. It's keeping these patients out of the waiting rooms and emergency departments. 
This critical step is providing access and convenience, pharmacists are already the most accessible healthcare professional, and many live within a few kilometers of a pharmacy. Perhaps the biggest help this expanded scope of practice will provide is to doctors, nurses, and healthcare workers by freeing up their time to focus on more complex healthcare cases. 
This expanded care aligns Ontario with eight other provinces across Canada. Canadian Pharmacists Association has shared an overview of what pharmacists across Canada can do. The full chart is available on their website.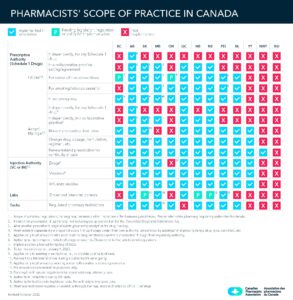 Pharmacies remained open and accessible throughout the pandemic, providing reliable and consistent patient care. They have played a critical role in helping roll out vaccinations, administering hundreds of thousands of doses, and providing testing to many more patients. Even with pharmacists doing more for their patients than ever, many consider them underutilized. They are calling for more action to help alleviate the burden on the system. 
It's great to see the expanded scope of practice extending to provinces and territories across Canada. The Relief Buddy platform supports additional resources that may be required due to the expanded scope of work, whether for a relief pharmacist or to add another permanent team member.